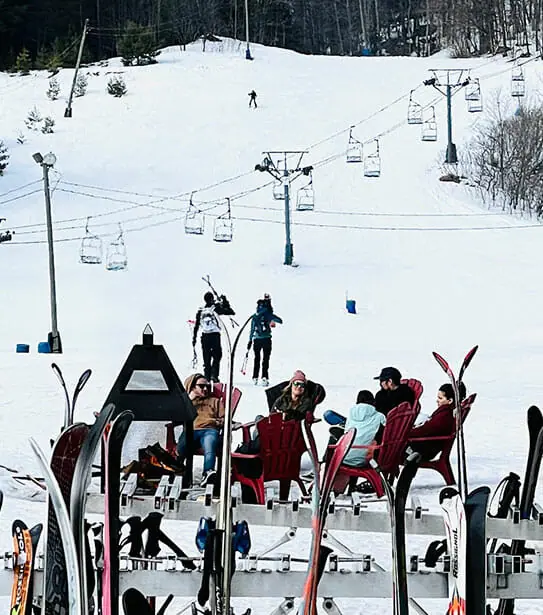 18 different-calibre slopes, a revamped snow park, great skiing and guaranteed fun for the whole family!
New: a renovated snow park reopening this winter with more challenges and adrenaline! come and have fun!
S'il vous plaît noter que les heures d'opérations, le nombre de remontées de pentes et pistes peuvent changer sans préavis. Le tapis magique n'est pas toujours disponible. Pour disponibilité ou si la météo est mauvaise appelez avant de venir au 819-459-2301.
| Difficulté | Piste | Jour | Soir |
| --- | --- | --- | --- |
| | 1) Lookout | Fermée | Fermée |
| | 2) Birch Valley | Ouverte | Fermée |
| | 3) Golden Trail | Fermée | Fermée |
| | 4) Cream Puff | Fermée | Fermée |
| | 5) Chien Chaud | Fermée | Fermée |
| | 6) North Slope | Fermée | Fermée |
| | 7) Maple Lane | Fermée | Fermée |
| | 8) Easy Rider | Fermée | Fermée |
| | 9) Snow Dance | Fermée | Fermée |
| Difficulté | Piste | Jour | Soir |
| --- | --- | --- | --- |
| | 10) La Chute | Fermée | Fermée |
| | 11) Carnaval | Fermée | Fermée |
| | 12) Headwall | Fermée | Fermée |
| | 13) Cote Des Neiges | Fermée | Fermée |
| | 14) Sun Dance | Fermée | Fermée |
| | 15) Upper Sun Dance | Fermée | Fermée |
| | 16) La Pente Douce | Fermée | Fermée |
| | 17) Arcade | Fermée | Fermée |
| | 18) Radar | Fermée | Fermée |
| Remontées | Jour | Soir |
| --- | --- | --- |
| Télésiege double Birch Valley | Ouverte | Fermée |
| Télésiege double Snow Dance | Fermée | Fermée |
| Télésiege double Pente Douce | Fermée | Fermée |
| Tapis Magique | Fermée | Fermée |