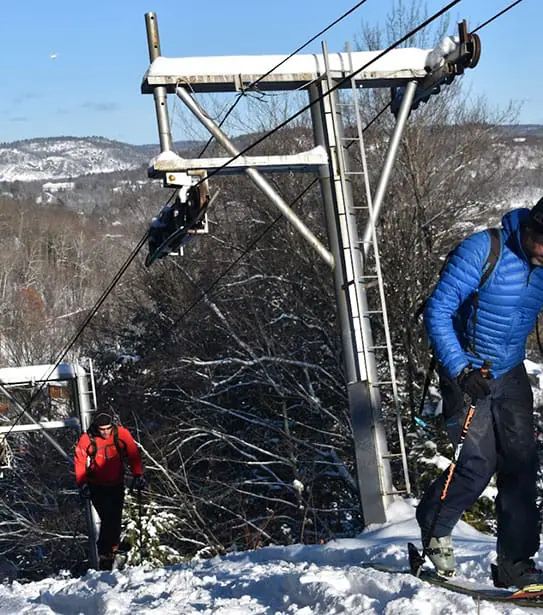 Come and discover our 2 official alpine touring trails. The T-Bar promises a fast, intense ascent so you can make more runs, while the Grand Climb offers a longer, more progressive activity for a longer workout.
Whether you're a day guest or a mountain passholder, you'll need a valid pass to climb the alpine trails. You can purchase it at the ticket office on site or online.
S'il vous plaît noter que les heures d'opérations, le nombre de remontées de pentes et pistes peuvent changer sans préavis. Le tapis magique n'est pas toujours disponible. Pour disponibilité ou si la météo est mauvaise appelez avant de venir au 819-459-2301.
| Difficulté | Piste | Jour | Soir |
| --- | --- | --- | --- |
| | 1) Lookout | Fermée | Fermée |
| | 2) Birch Valley | Ouverte | Fermée |
| | 3) Golden Trail | Fermée | Fermée |
| | 4) Cream Puff | Fermée | Fermée |
| | 5) Chien Chaud | Fermée | Fermée |
| | 6) North Slope | Fermée | Fermée |
| | 7) Maple Lane | Fermée | Fermée |
| | 8) Easy Rider | Fermée | Fermée |
| | 9) Snow Dance | Fermée | Fermée |
| Difficulté | Piste | Jour | Soir |
| --- | --- | --- | --- |
| | 10) La Chute | Fermée | Fermée |
| | 11) Carnaval | Fermée | Fermée |
| | 12) Headwall | Fermée | Fermée |
| | 13) Cote Des Neiges | Fermée | Fermée |
| | 14) Sun Dance | Fermée | Fermée |
| | 15) Upper Sun Dance | Fermée | Fermée |
| | 16) La Pente Douce | Fermée | Fermée |
| | 17) Arcade | Fermée | Fermée |
| | 18) Radar | Fermée | Fermée |
| Remontées | Jour | Soir |
| --- | --- | --- |
| Télésiege double Birch Valley | Ouverte | Fermée |
| Télésiege double Snow Dance | Fermée | Fermée |
| Télésiege double Pente Douce | Fermée | Fermée |
| Tapis Magique | Fermée | Fermée |